Building the KARA Hummerİ
---
Assembling the Cockpit
Cut the cockpit sides and ends to the lenghts specified in the plans. A chop saw or miter saw is handy for this step, but not really necessary. You can use this trick to get a straight cut. Place a triangle square on the board and hold tightly. Run the base of your saw carefully along the edge of the square.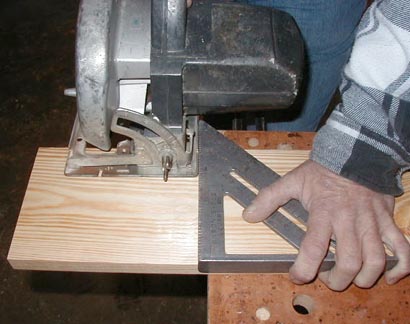 Make sure that you allow for the width of your saw's base!

Align cockpit
No mention is made in the plans for a bevel on the cockpit side deck supports, but I ripped mine at approximately a 25 degree angle. Also, the instructions say to cut the deck support the same width as the cockpit plus the thickness of the two side deck supports, and reports this dimension as 29 1/2 inches. If you cut your cockpit ends 28 inches, and screwed it to the inside of cockpit sides, then your overall cockpit dimensons will be 29 1/2 inches. Therefore, when you attach the cockpit side deck supports, the length of the deck support ribs should be 31 inches. This is the length that I cut my deck support ribs.
Cockpit side deck support

Deck support, Deck rib, Mid support, and deck rib support.
When you drill and screw the cockpit to the ribs, make sure that you run the screws straight down, otherwise you will hit the screws when you finish cutting the ribs out.
You will have to notch the deck rib to accommodate the mid support. The mid support butts against the deck support.
At this point, your boat should look something like this.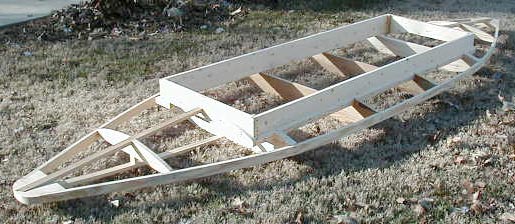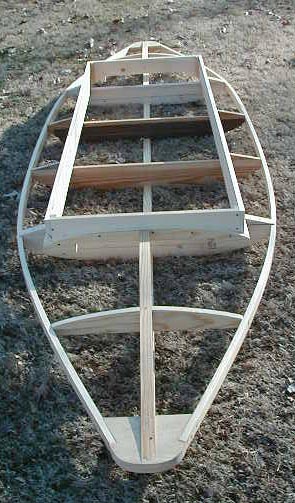 Congratulations, you are now ready for the plywood attachment.




Home     Previous   Next
Home
Framing
Plywood
Fiberglass